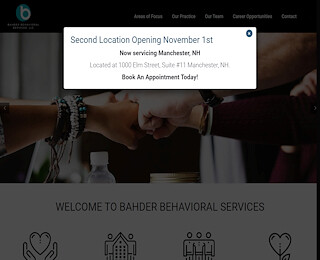 Psychiatric Care In New Hampshire: Tips For Choosing A Quality Psychiatrist
Deciding to seek help for your behaviors, relationships, or feelings can be very challenging. But, opting for psychiatric care in New Hampshire can be one of the most important decisions you can make towards overcoming your challenges and struggles. It is also very important that you look for a competent psychiatrist when considering psychiatric care.
But the big question is "how do you find a competent psychiatric?" This is one of the most difficult challenges faced by a lot of people looking for psychiatric care in New Hampshire. In this article, you will learn about some of the most important factors to put into consideration when looking for an experienced and reliable psychiatrist. Here are some of the tips to guide you.
Get Recommendations and Referrals
To begin your search, you should get a list of potential psychiatrists from your family health center or your personal doctor. You can also ask your family, friends, neighbors, or colleagues to refer you to a psychiatric that is trustworthy and reliable (i.e., if they have had an encounter with any before). If they know any psychiatric, ask them if they have had any experience with the psychiatrist. Find out from them if they were satisfied with the service of the psychiatrist. If they were not satisfied with the psychiatrist, then there is a possibility that you might not be satisfied also. After getting recommendations, the next step to take is to do proper research on the credential of the psychiatrist.
Carry Out Adequate Research on the Credentials of the Psychiatrist
When looking for good psychiatric care in New Hampshire one vital factor to put into consideration is the credential of the psychiatrist in charge. This will give you a better insight of the level of experience of the psychiatrist, the level of training he or she has, and the skill required for quality psychiatric healthcare.
You should also make sure that the psychiatrist has no history of disciplinary actions and malpractice claims. You can also check online for the medical school of the psychiatrist, their training hospital, disciplinary and malpractice history, certifications.
The Experience of the Psychiatrist
When you are having challenges with mental health issues, the experience of the psychiatrist matters a lot. The more the experience of a psychiatrist regarding a procedure or condition, the better the results you will get. Ask the psychiatrist to tell you how many patients with your condition he or she has treated. Also, find out from them the success rate of those treatments. If your case requires a specific procedure, find out from them if they have performed such procedures before, and the success rate of the procedures they have carried out.
Find out from them if they have encountered any complication before, how they handled the complication, and what the outcome was. It is very important you know all these to get a clear insight of what you should expect. So it is vital you look for a psychiatrist in New Hampshire that has a lot of experienced, qualified, and trained psychiatrists.
psychiatric care New Hampshire